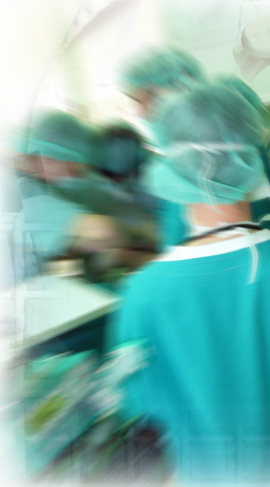 case studies
CASE STUDY 1
A 60-bed acute care facility's excellent
ROI-7 Solutions® Success Story
PROBLEM
A 60-bed acute care facility, located in the
Mid-West, looked for savings, given their
market's and state's declining economic
environment.
ROI-7 SOLUTIONS®
The hospital was particularly attracted to
ROI-7 Solutions® for two critical reasons:
• The hospital wanted the assurance and
predictability of ROI-7 Solutions'®
contractually guaranteed ROI in excess
of 7 to 1.
• Further, ROI-7 Solutions® contractually guaranteed that the 7 to 1 ROI was achievable without layoffs. This was a very important issue where this community hospital is the largest employer in an already financially-impaired industrial state.
With ROI-7 Solutions'® patented algorithmic filter and on-site consultants, the Hospital selected and sequenced numerous, savings/revenue-generating Solutions. This process facilitated ROI-7 Solutions'® resource expense optimization approaches and resource use effectiveness techniques. ROI-7 Solutions® produced substantial savings and new net revenues on a predictable and guaranteed basis:
OUTCOME
Within the first 2 months of the 24 month ROI-7 Solutions® engagement, the hospital exceeded its two year (not a typo) savings/revenue goal by 30%. Within 4 months, the hospital exceeded its two year goal by 159%, for a total calculated savings of almost $2 million within the first 4 months, in only 17% of the contract period.
The following is believed to have contributed to the hospital's success:
• A highly motivated and engaged hospital
management team, starting with the CEO.
• An effective, internal process for ROI-7 Solutions'® Solution implementation teams, led by the Hospital's ROI-7 Solutions'® executive champions.
• The use of ROI-7's Project Worksheet for
team meetings and updates for the Hospital's executive team.
• An impetus for change: the executive team is on assignment from the Hospital's parent company – a nationally-recognized 500 bed hospital, which very much cared for the well-being of the ROI-7 Solutions® client Hospital.
Further factors that contributed to this
accelerated success:
• A culture of dedication to the Hospital
and eagerness to see it thrive.
• A thorough assessment of facility and department interviews by ROI-7 consultants to determine the best ROI-7 Solutions® that would provide "quick wins", i.e., early and large savings/revenues, to establish credibility for the program, while gaining buy-in.
• A focus on Solutions for "Amnesty", Transfer DRGs and Inventory Management proved highly financially advantageous.
• Monthly consultant site visits with ROI-7 Solutions'® team leaders and executive champions. Scheduled debriefing meetings with consultants and executive champions at the end of each site visit to discuss progress and barriers to implementation.
• Consultant follow-up with each Solution team leader in between site visits to remain on track with Solution implementation, providing coaching when necessary. Positive feedback to Solution team leaders, with emphasis on "their" success, not ROI-7 Solutions'®.
• Consultant facilitation with vendors to ensure collaboration and timely responses to client.
CASE STUDY 2
A 260 bed acute care facility's
ROI-7 Solutions'® Success Story
PROBLEM
Issues and Opportunities for Resource Optimization Infrastructure-wide

A 260 bed acute care facility in Illinois, like the majority of hospitals in the Midwest, was and is facing severe, multi-faceted reimbursement declines, as well as a loss of significant investment monies... all impacting their ability to fully serve their acute patient population.
ROI-7 SOLUTIONS®
This hospital looked to ROI-7's massive and diverse set of Solutions to enhance the hospital's financial stability in order to more completely and effectively serve the hospital's hospital-based clientele.
With ROI-7's patented algorithmic filter and ROI-7 Solutions'® on-site consultants, the hospital selected and sequenced numerous, relevant, focused, cost-effective Solutions. This facilitated ROI-7's resource optimization approaches and resource use and revenue-conversion effectiveness techniques. These approaches achieved substantial new savings and net revenues on a predictable and guaranteed basis, exceeding expectations, as well as the guarantee.
For example, one of the ROI-7 Solutions® chosen by the hospital was a surgical procedure custom pack analysis Solution. The hospital was using several custom packs for surgery cases and spending excessively on them.
Custom procedure packs usually contain items packed together that are specific for that type of surgery for that particular
physician and hospital.
That is, the custom packs are specifically hospital-customized,physician-customized and procedure-customized.
These packs usually run 25%-50% above the cost of buying the surgical items separately.
Procedure packs can save a hospital's staff time, if only the items that are medically necessary are contained in the pack. The standard packs contain fewer items, are more cost-effective and usually contain more generic (and thus less-expensive) items. Procedure packs should contain only those items that are deemed absolutely medically necessary to complete the surgery for that patient.
ROI-7 SOLUTION®
ROI-7 recommended that the hospital switch from the custom packs, which were and are of higher price, to buying standard packs. We compared standard packs to these custom packs to analyze if they were cost-effective. We also looked at what items they were pulling manually versus items that had been left over in their custom packs that they did not use on a regular basis.
There were many items not being used in the custom packs. By switching to the standard packs, there were not that many items that the hospital would have to hand pull for each case, thus saving time and money.
OUTCOME
ROI-7 Solutions® was able to eliminate $240,000 per year in direct costs from procedure pack purchases.
The procedure pack Solution was just one of 80-100 Solutions that the client will receive over the term of their contract, and just one of over 1000 Solutions that ROI-7 Solutions® offers. The hospital has also implemented several other Solutions pertaining to reducing: blood use, lab studies, femoral closure devices, and many more items.
The hospital has achieved 95% of their contractually guaranteed 7:1 ROI in the first year. They will have significantly exceeded their guaranteed ROI of 7 to 1 by the end of their contract.
CASE STUDY 3

A 200 plus-bed Midwest, ROI-7-client hospital achieved rapid and significant savings/revenues with only two ROI-7 Solutions®
With the hospital's efforts focused on the combination of related ROI-7's Solutions®, the hospital was able to achieve rapid and significant savings with exceptional and skillful use from just two ROI-7 Solutions®.
SOLUTIONS
The Solution for regional cooperative and shared services encourages ROI-7 hospital clients to join cooperative forces with at least some of the other non-ROI-7 hospitals in their area or region – even market-competitive ones. With a unified commitment to utilize the same distributors, manufacturers, renters/leasers, labs, carriers, law firms, energy providers and other services, critical mass can lower overall pricing for each hospital participant. In this venture, by way of area-wide vender consolidation and standardization in all the purchase areas mentioned above, significant and rapid savings were achieved.
The Solution for putting hospital's GPO(s)' business out to bid, recommends that
many of the hospital's products and services be bid on by any (many) healthcare GPO(s) – both regional and national. Many times hospitals don't utilize or even forget what services are offered by their existing GPO(s) and don't take advantage of some very competitive pricing.
This exercise not only differentiates one GPO from another, but it also helps the hospital's executives strategize as to which purchased services are used in all of their owned entities and units, e.g., out-patient clinics, physician offices, et al.
Some GPOs and their affiliated hospitals even offer special pricing for independent physicians' offices. This process strengthens physician relationships and good will, while increasing the volume, standardization and magnitude of discounts of items and goods purchased through the relevant GPOs.
This ROI-7 Solutions® client hospital collaborated with a large hospital purchasing alliance in the Northeast U.S. to achieve incremental savings with their current GPO. All hospitals agreed to use the same distributors, commodity products and services (where possible) to experience an annual savings of $376K per year for just this ROI-7 client, and only as based on best-tier pricing.
Additionally, another $1.1M in overall incremental value in the form of rebates and enhanced services made the Solutions well-worth the pursuit for this hospital.
OUTCOME
For this ROI-7 hospital, ROI-7 Solutions'® contractually guaranteed 7:1 ROI was achieved within the first 4 months of this multi-year program! This extremely early achievement assures that the hospital's final ROI will be many times the guaranteed ROI of 7 to 1.
CASE STUDY 4
ROI-7 Solutions® Success Story...Converting an Expense into a Revenue
Implementing a simple change in patient instructions, following the recommendation of an ROI-7 Solution®, an ROI-7 client hospital was able to convert a non- reimbursed outpatient expense to an annual $46,000 net profit in the hospital- owned outpatient pharmacy.
A 180-bed, not for profit northern Midwestern hospital was routinely dispensing medications to patients required to use in an at-home preparation prior to their scheduled outpatient imaging procedure in radiology or in the endoscopy suite.
In addition to the hospital-owned physician practices' routinely dispensing the medications free of charge to patients, the hospital was also providing the medications at no charge to "walk in" patients carrying the prescription, further increasing the expense to the hospital system.
The medications were common items that might easily be purchased over the counter at a pharmacy, either as a kit or as a single item.
Upon assessing this practice, the ROI-7 Solutions'® consultant forwarded to the hospital an ROI-7 Solution® that recommended the physician office provide the patient with a prescription to be filled at their local drug store or an outpatient pharmacy. This implementation best exemplifies a very achievable savings when a team is fully engaged with the ROI-7 Solution® process and develops a timeline and implementation date to actualize the opportunity.
This and other similar initiatives developed during the ROI-7 engagement helped this hospital easily achieve and exceed the contractually guaranteed 7:1 ROI well in advance of the ROI-7's contract close with several completed Solutions savings/revenues yet to be quantified.
These additional savings will further exceed the 7 to 1 goal.